Using Electronic Medical Records to Combat the U.S. Opioid Crisis
In 2017, President Donald Trump declared the opioid crisis a national public health emergency. According to the most recent data gathered by the Centers for Disease Control and Prevention (CDC), more than 40% of all U.S. opioid deaths in 2016 involved a prescription opioid, with more than 46 people dying every day from overdoses involving prescription opioids. While stakeholders across the healthcare continuum are fighting the opioid crisis on many fronts, optimizing electronic medical records (EMR) technology has become a significant legislative and regulatory priority in this battle.
Electronic Prescribing of Controlled Substances (EPCS)
According to the Office of the National Coordinator for Health Information Technology (ONC), EPCS allows providers to see patients' medication histories at the point of care, which can alert providers to patients who might exhibit drug dependency behavior. It also limits the ability of patients (or non-patients) to forge or alter prescriptions for opioid medications by creating a secure pathway for the transmission of a prescription from the provider to a pharmacy. EPCS also can be used to integrate information relating to prescribing guidelines, quantity limits, and alternative medications. The Every Prescription Conveyed Securely Act (HR 3528) currently before Congress would require EPCS for controlled substances within Medicare's Part D prescription drug program with certain exceptions.
Prescription Drug Monitoring Program (PDMP) data Integration
The lack of integration between EMR and PDMP data may be contributing to over-prescription of opioid medication to patients whose prescription history suggests abuse or diversion. Without integration, searching a state PDMP requires providers to exit their clinical workflow and log into the PDMP system, which is time consuming and cumbersome, according to the ONC. In 2018, Allscripts is proposing to work toward importing state-level PDMP data directly into EMRs to provide real-time alert scores that make it easier to identify patients at risk for opioid abuse or diversion. Epic, which has begun the process of PDMP integration into EMR, reports that consulting PDMP data before prescribing opioids has reduced drug-seeking behavior by 75% in some states. The Opioid Crisis Response Act (SB 2680) would encourage the integration of program data into the EMR in real-time, and for states to share PDMP data with one another, all of which could assist doctors and pharmacies in detecting patients who have a history of substance abuse before prescribing. Notably, the Act would also encourage the aggregation and analysis of PMDP data in a de-identified way to allow various regulatory and law enforcement agencies to evaluate and prevent inappropriate prescribing, drug diversion, or abuse and misuse of controlled substances.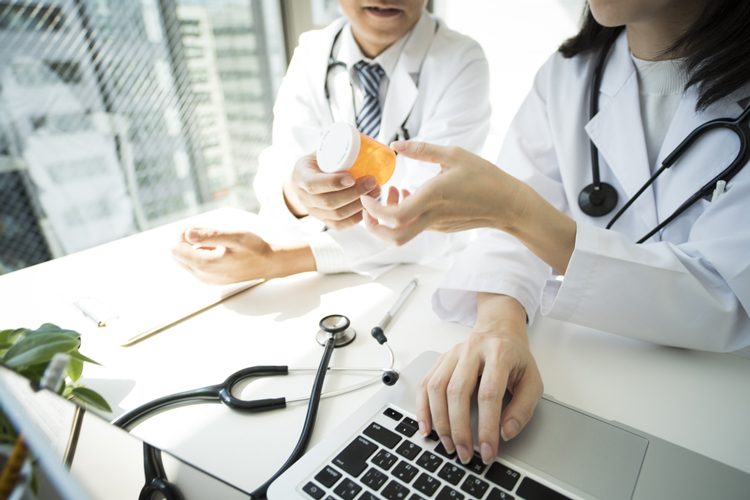 Interoperability of EMR
The Centers for Medicare and Medicare Services (CMS) have issued a proposed rule that may promote interoperability of electronic medical records at Medicare-participating hospitals. Under the proposed rule, newly rebranded "Promoting Interoperability" objectives provide incentives to providers who update EMR to allow patients to access and share their medical records with other providers and facilities. Giving patients a more efficient means by which to aggregate their medical data across providers and institutions may increase the providers' ability to manage complex medical problems that require the use of opioid pain medications.
EMR-Induced Medication Error Still an Issue
While use of EPCS and PDMP data integration, along with bedside bar-coded medication administration, electronic medication reconciliation, and automated dispensing cabinets, help reduce medication error, providers should be aware that EMR can also lead to medication problems resulting from:
Placing free-text instructions in the order comments field
Selecting the wrong medication or dosage from a drop-down menu, list, or set of forms
Misspelling medication names for "sound alike" drugs
Using outdated order sets or prescribing information coded into the EMR
Overlooking alerts about drug interactions, allergies, or lab values due to alarm fatigue
User "workarounds" to avoid time consuming and/or difficult user interfaces
These legal and regulatory initiatives signal a growing adoption of health information technology as a means to influence patient care and tackle large-scale social problems like the opioid epidemic. Through broader adoption of this technology, hospitals, physician groups, and other providers can help contribute to these efforts.
Search

Subscribe via Email


Subscribe to this blog's feed

Follow us on Twitter
Blog Editors