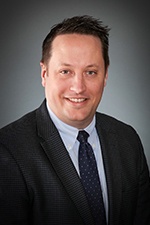 Jason K. Winslow
Partner
jwinslow@hinshawlaw.com
618-310-2375
Jason Winslow defends hospitals, physician groups, doctors, mid-level providers, and other medical professionals in medical malpractice suits. He …
Showing 6 posts by Jason K. Winslow.
Hospitals operating in Florida need to be aware of a new Florida law that voids noncompete agreements between doctors and their employers. Specifically, Section 542.336 of the Florida statutes voids noncompete agreements between physicians and specialty physician groups where the group employs all the specialty physicians in a given Florida county. An oncology service provider had sued in federal court, arguing the law amounted to special interest legislation and did not serve a legitimate public purpose, as required by the U.S. Constitution's Contracts Clause. More ›
I recently had opportunity to publish an article in the DRI Medlaw Update regarding the challenges posed by Electronic Health Records (EHRs) technology within the context of medical malpractice cases. In the article, I address how EHRs operate and how they differ from the more familiar paper medical chart. More ›
In 2017, President Donald Trump declared the opioid crisis a national public health emergency. According to the most recent data gathered by the Centers for Disease Control and Prevention (CDC), more than 40% of all U.S. opioid deaths in 2016 involved a prescription opioid, with more than 46 people dying every day from overdoses involving prescription opioids. While stakeholders across the healthcare continuum are fighting the opioid crisis on many fronts, optimizing electronic medical records (EMR) technology has become a significant legislative and regulatory priority in this battle. More ›
Watson v. West Suburban Medical Center, 2018 IL App (1st) 162707
We're going to begin exploration of this recent Illinois decision, by referencing one of our favorite movies: The Verdict (1982) starring Paul Newman. In the movie, Newman's character, lawyer Frank Galvin, wins a medical malpractice trial on behalf of Deborah Anne Kaye against St. Catherine Leboure Hospital. During the trial, Galvin elicits testimony from Nurse Kaitlin Costello Price that the patient had eaten just one hour before a surgery during which she aspirated, resulting in her paralyzation and permanent vegetative state. On cross-examination from defense counsel for the Hospital, Nurse Kaye produces a photocopy of the original medical record which proves she had noted the time at which the patient last ate, as well as that the record had been altered by an anesthesiologist, Dr. Robert Towler, to conceal that fact. While the able defense attorney convinces the trial judge to suppress evidence of the altered record—as well as to issue an admonishing instruction to the jury to disregard all Nurse Price's testimony—the jury renders a guilty verdict, and even asks if it can increase the amount awarded to Mrs. Kaye's family.
With the advent of electronic medical records and audit trails, the ability of healthcare providers to deliberately alter medical records with the intention of concealing harmful information—all without being noticed—is limited at best. But what happens when a known alteration of a medical record calls into question the validity of a material fact? Is evidence of the alteration admissible? Does such evidence create an inference of falsification? These issues were addressed in Watson v. West Suburban Medical Center, 2018 IL App (1st) 162707. More ›
Telehealth is a burgeoning, technology-based treatment delivery mechanism that allows healthcare providers to remotely monitor patients, provide real-time interactive care via video technology, and receive or transmit medical data using store-and-forward technology. With benefits such as increased access to care, reduced healthcare costs, and enhanced care coordination, telehealth is gaining wider use and popularity among hospitals and other health care providers in the United States.
This growth has been accompanied by greater regulatory scrutiny. In 2017, over 30 states amended their existing telehealth laws. In some states, these updates became effective on January 1, 2018. The Center for Connected Health Policy maintains a complete listing of the approved state telehealth legislation in 2017, which can be found here.
In Illinois, 2017 saw passage of the Illinois Telehealth Act, the first legislative guidance to telehealth service providers in Illinois regarding the appropriate scope and standards of care for the provision of telehealth services. The new law requires "Health Care Professionals" — defined to include physicians, physician assistants, optometrists, advanced practice nurses and some mental health providers—to practice within the scope of their respective licenses and to follow the same standard of care that is applied to in-person services. More ›
For attorneys who represent hospitals in medical malpractice cases, dealing with nursing witnesses who have retired or relocated can be difficult. In addition to the practical issues of finding these witnesses, contacting them and communicating with them remotely, potential legal issues can further complicate circumstances. For example, opposing counsel may take issue with attempts to contact such witnesses under the broad prohibition against defense attorneys communicating with treating witnesses (known as the Petrillo doctrine). Opposing counsel may also seek the exact nature and content of such communication and challenge the existence of any privilege protecting it. While in most cases these issues can be resolved informally among the attorneys, hospital attorneys should keep the case of Caldwell vs. Advocate Condell Medical Center, 2017 IL App (2d) 160456 (Oct. 4, 2017) at ready reference in case they cannot. More ›
Search

Subscribe via Email


Subscribe to this blog's feed

Follow us on Twitter
Blog Editors
Blog Contributors