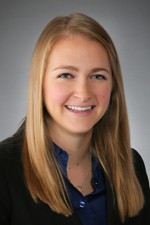 Blair P. Keltner
Associate
bkeltner@hinshawlaw.com
618-277-2400
Blair Keltner focuses her practice in health care litigation. She is involved in all aspects of the litigation process, and drafts pleadings and …
Showing 7 posts by Blair P. Keltner.
Years before the rise of the "#MeToo" movement, the Illinois Gender Violence Act (IGVA) was enacted to give victims of criminal "gender violence" a civil remedy. The IGVA creates a civil cause of action for persons who have been subjected to gender-related violence, which is defined in part as, "a physical intrusion or physical invasion of a sexual nature under coercive conditions satisfying the elements of battery under the laws of Illinois." A cause of action under the IGVA exists regardless of whether the alleged act of sexual aggression resulted in criminal charges, prosecution, or conviction. Essentially, any claim involving sexual harassment and physical touching could arguably fall within the scope of the statute. More ›
In Swift v. Schleicher, 2017 IL App (2d) 170218, plaintiff sought to impose liability on Defendant physician after he perforated Plaintiff's small bowel during a laparoscopic hysterectomy and failed to diagnose the perforations until four days later. Defendant attempted to introduce evidence that Plaintiff's expert perforated a patient's bowel during a 1989 procedure. More ›
In Horlacher v. Cohen, 2017 IL App (1st) 162712, the Court held that Plaintiff's Third Amended Complaint was properly dismissed when she failed to include a Section 2-622 written report concluding that a "reasonable and meritorious cause" for her action existed. Plaintiff, appearing pro se, had previously filed three other versions of the Complaint without attaching the required Section 2-622 written report. More ›
We continue our look at recent Illinois court rulings impacting health care, with a review of Arient v. Alhaj-Hussein, 2017 IL App (1st) 162369.
In this case, plaintiffs sought damages from defendant physician and his employer after the patient became paraplegic following a celiac plexus block procedure. Plaintiff attempted to present evidence that defendant physician lacked privileges to perform a celiac plexus block and therefore breached the standard of care. The Court held that evidence of defendant physician's lack of privileges was inadmissible as there was no statute requiring him to obtain privileges before performing such a procedure. Furthermore, whether defendant physician possessed privileges to perform the procedure was irrelevant as such evidence did not tend to make the allegation that he deviated from the standard of care more or less probable.
In our second of a series of posts looking at the impact of several recent court rulings on healthcare law in Illinois, we look at The Private Bank v. Silver Cross Hospital and Medical Centers, 2017 IL App (1st) 161863. In this case, the plaintiff alleged that an emergency room physician breached the standard of care by negligently delaying to treat her fiancé, who suffered an anoxic brain injury while admitted to the ICU for pneumonia. Plaintiff sought damages including loss of consortium and loss of a chance to marry, which were dismissed as Illinois does not recognize claims for the loss of a chance to marry or loss of consortium on behalf of a patient's fiancé. More ›
By the close of last year, the Illinois Supreme Court and various Illinois Appellate Court Districts had published a series of decisions that addressed a variety of health law topics, from apparent agency to discovery practice.
Since these decisions significantly impact healthcare law in Illinois, we are going to explore them in detail with a series of posts this month. Our first post in the series looks at the Illinois Supreme Court decision of Yarbrough v. Northwestern Memorial Hospital, 2017 IL App 121367. More ›
Search

Subscribe via Email


Subscribe to this blog's feed

Follow us on Twitter
Blog Editors
Blog Contributors